Welcome to the Peak Performing Professor and the website of Susan Robison, Ph.D.
As a professor and former department chair, I understand the challenges and the rewards of college teaching. While teaching our subject matter, we also contribute scholarship in our disciplines and participate in leadership roles in our institutions. My work in faculty development aims to support faculty as they care for themselves while working effectively in those roles. There are two ways that I help faculty and their leaders: one is through seminars both at conferences and at colleges and the second is through individual and group coaching.
My seminars and coaching aim at two areas:
Peak Performing Professor seminars and coaching help faculty do great work while having a great life.
Leadership Skills for Academic Leaders seminars and coaching help academic leaders support faculty do great work.
For more information and specific programs see
Programs
Participants in my Peak Performing Professor seminars will go beyond traditional time management to learn life management skills. After attending, they are able to:
Anchor all of their activities into a life management system that articulates a purpose, mission, and vision;
Define and achieve work-balance;
Focus their energy and time on high priority tasks both personal and professional.
Track all projects and tasks into one-easy-to manage system which eliminates the need for daily to-do lists and tiny scraps of paper with tasks on them;
Break down Big Goals like "write a book" into small manageable steps taking 15-30 minutes each;
Develop individualized strategies to manage the three main roles of faculty, namely, teaching, researching, and serving
The coaching that I offer help professors achieve:
Work life balance;
Less stress and more productivity;
Support in exploring interesting career opportunities and developing a legacy;
Strategies for setting priorities;
Faster, easier paths to success in achieving rank, tenure.
My "Leadership Skills for Academic Leaders" seminars help chairs, deans, and other leaders:
Clarify priorities to work smarter not harder;
Coach faculty to higher productivity, engagement, and collegiality;
Maintain their own work-life balance while helping faculty do the same.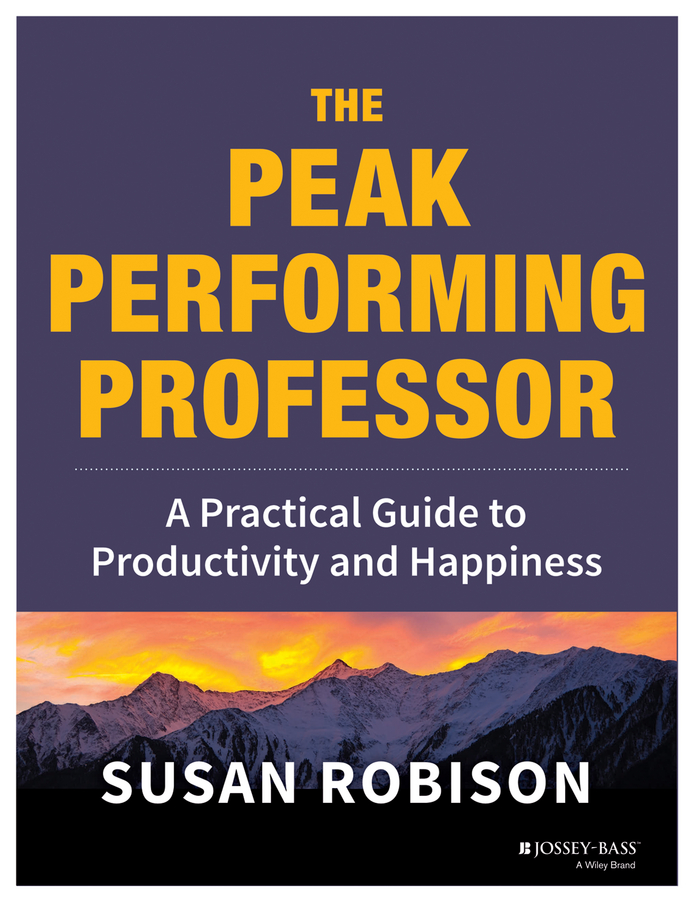 My 2013 book, The Peak Performing Professor: A Practical Guide For Faculty Productivity and Happiness contains hundreds of strategies for working well while living well. My book can be purchased directly from the publisher at Jossey-Bass Wiley or from Amazon.
One of my favorite activities is doing on-line coaching for book groups who want to implement the strategies from The Peak Performing Professor and for writing groups who want to write more easily and successfully. The participants of these coaching groups report that our work together helps them to:
Break down large projects into smaller achievable tasks that take 15-30 minutes;
Organize projects, big and small, from idea stage to completion;
Stop procrastinating and get writing regularly;
Write on the "right" topics that build a body of work rather than just stale articles leftover from your dissertation topic;
Conquer the self-defeating attitudes and distractions that block writing progress.
To talk to Susan about engaging her for seminars and coaching: